This general requirement aims to guide Principal Submitting Person (PSP) before obtaining approvals planning plan, building plan and engineering plan. The guide also provide information about certificate for completion and compliance (CCC), as well as other regulatory compliances.
Below is a construction schedule to be followed by every industrial projects implemented using E10. Specifications for every marked item are clearly illustrated in Appendices.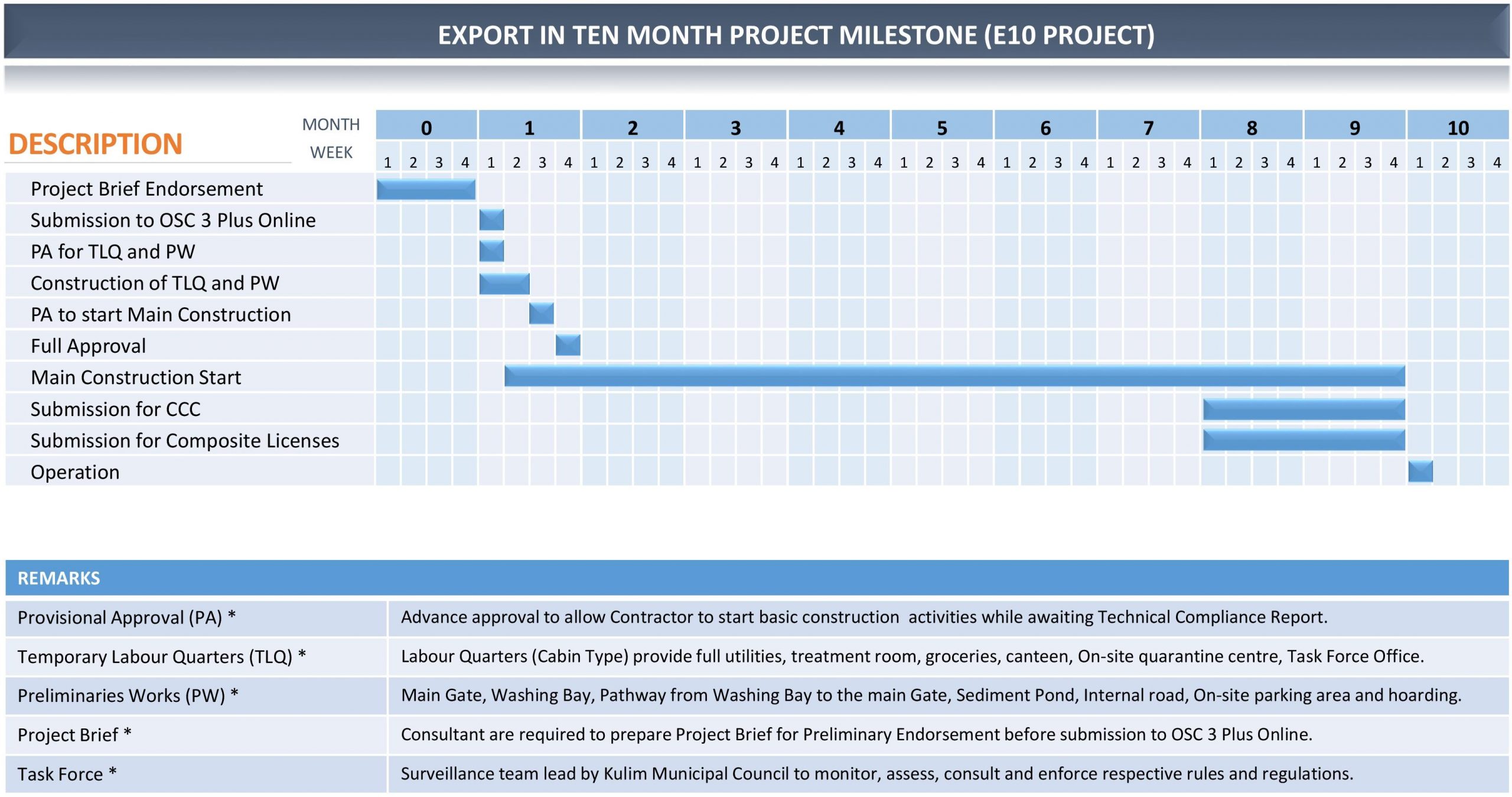 Disclaimer :This commitment only applied to the industrial lot that has been identified in Appendices D.
Requirement for Certificate of Completion and Compliance (CCC)
A Principal Submitting Person (Professional Architects / Professional Engineers) issues a Certificate of Completion and Compliance (CCC), which certifies the building is ready for occupation once the construction is completed and satisfied by the Kulim Municipal Council. Thus, the project owner must appoint Principal submitting person (PSP) responsible for submitting building plans to the Kulim Municipal Council for approval. It includes any other qualified person who takes over the duties and responsibilities of PSP
PSP is responsible for dealing with Kulim Municipal Council and other technical agencies during the project and at the end, i.e. issuance of CCC.
For further information on PSP, please refer to the government governing bodies for the professionals as follow:
• Board of Architect Malaysia. www.lam.gov.my
• Board of Engineer Malaysia www.bem.org.my
Requirements for Business  Premise Licenses
Business Premise License is a license regulated by the Kulim Municipal Council to certify the fitness of the premise for operation. The application of business premise license involves Licensing Department, Kulim Municipal Council; and the following technical agencies:
Department of Occupational Safety and Health (DOSH),
Department of Environment (DOE)
Fire and Rescue Department (BOMBA).
Majlis Perbandaran Kulim
No 1 Lebuh Bandar 2
Bandar Putra
09000 Kulim, Kedah
MALAYSIA
Have Questions? Get Answers! Whether you're a manufacturer in Kulim Industrial Corridor or interested in becoming one, we're here to facilitate